10-04-2023
6:00 pm
-
7:30 pm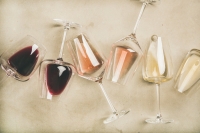 Sipping Carignon and more!
11-01-2023
6:00 pm
-
7:30 pm
As we enter into the season of Gratitude, I always take a moment to be thankful for those that make the choice to share in a delightful wine expereince with me!
And now...wine! Sometimes we get a little caught up in basing our wine selections for Thanksgiving around the bird. Well, here's a secret...the bird is the bird regardless of if you roast it, fry it or smoke it! :) For this class, I base wine selections on 4 different Thaksgiving "table scapes" that are found throughout the US - fruit, butter, salt, earth.
12-06-2023
6:00 pm
-
7:30 pm