Meet Ruby & Claude,
Our Mobile Bars


Once upon a time she was a tiny house and he was a heap of discarded aluminum. But today, they've been lovingly reimagined into mobile bars with personalities all their own. They love attending parties throughout the Front Range of Colorado. And you'll find they are the life of the party!
Introducing Ruby . . .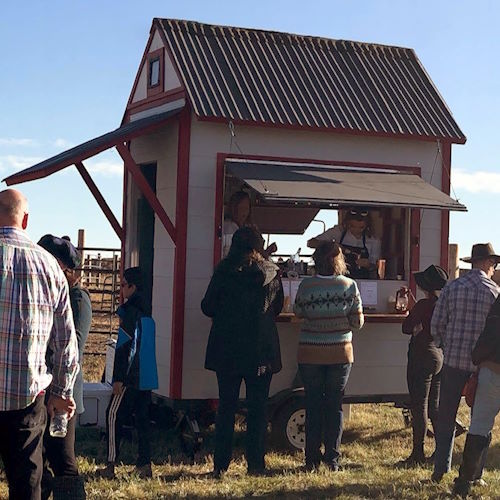 Ruby is the sweetest, tiny mobile bar. She is happy to show off her prohibition-style cocktail creations, wine and suds service… and she thrives on being a special memory maker.
Ruby charms guests with her custom design created by a local craftsman, and loves to show off her hand-laid penny floor with a few secret custom touches.
Size Matters
While it's not nice to talk about a girl's measurements, we can make an exception here. Ruby is tall and thin . . . and is 15' in length . . . so as long as she has the headroom, she can be snuggled into a variety of spaces for any private event you can dream up.
Ruby's Rules
She is not a fan of tree branches, powerlines and bumpy roads as she either bumps her head or damages her feet and then she's just a hot mess!
She takes her sweet time when arriving to parties, so we usually need a little more time to motivate her into place. But when she is all dressed up and ready to entertain, she is the life of the party!
Dollars & Cents
Ruby loves to be out and about, but she doesn't always fit in. If you'd like to invite her to the party, she is an add-on option that is available for $700. Parlor Bartending packages are not included in this price.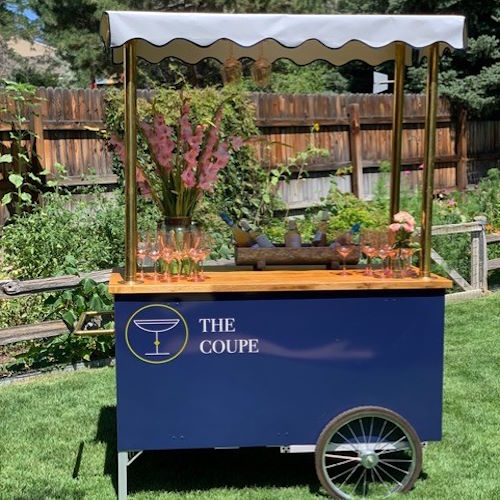 . . . And Claude
Now that Claude is off the streets, he's really upped his game appearing at some of the swankiest parties in Colorado. He's really an easy going chap and guaranteed to bring a smile to your face and POP to your party! Or should we say Champagne & Spritz.
Size Matters to Men Too
Claude is ready to spring into action at a whopping 5'5" L x 3' W x 7'5" H with walking shoes (fairly robust tires) that are quite maneuverable but once placed, meant to stay for the duration of the party. Important tidbit - Claude does not do stairs!
Claude's Rules
Claude has a custom trailer that allows for quite a sprinting distance, so Claude happily travesl the entire Colorado Front Range.
Claude likes enough space to accommodate a back-bar partner in service . . .best foot forward and all! Don't fret . . . we bring that along for the ride!
Claude's first love is a great wine service. But when there's a new signature sipper on tap, he's all about serving it.
Dollars & Cents
Claude loves to be out and about (actually there's a little rivalry between he and Ruby.) If you'd like to invite Claude to your party, he is available to attend as an add-on option priced at $500. Parlor bartending packages are in addition to this price.
The Laws – You just can't avoid them…
In true Prohibition-style, Colorado Liquor Laws prevent Ruby & Claude's creators, Casey and Michaela, from selling adult beverages publicly, but they can serve alcohol provided by the Event Host at private invitation-only events. They are masterful at creating a custom menu for each event!

Booking Ruby or Claude, Our Mobile Bars, For Your Event
To have Ruby or Claude, our mobile bars, at your event, just let us know when you book your event with us.
Looking for "Mobile Bartending Services Near Me"?
When you are searching for "Mobile Bartending Services Near Me", it doesn't get any more "near you" than calling The Parlor. We happily provide mobile bartending services along the Front Range from Denver to Pueblo and all the communities in between. This includes:
Colorado Springs • Peyton • Security • Fountain • Monument • Castle Rock • Denver • Parker • Highlands Ranch • Aurora • Golden • Lakewood • Englewood • Pueblo • Woodland Park • Buena Vista • Westcliffe. For mobile bartending services outside of these areas, call for availability.